2021 Sunshine Bay Reserve Sauvignon Blanc
Phenomenal recovery CLEARANCE of Reserve Old Vine Sauvignon Blanc. Ethical and pioneering Marlborough winemaking Rose family withdrew this Russian Fine Wine "Ready to Ship" Export order – already averaging 4.8/5 from 45 customer reviews... the quality is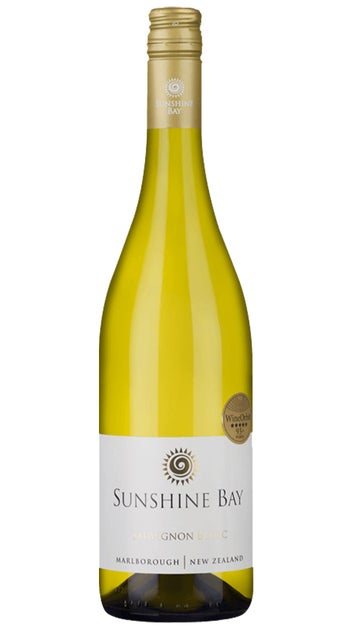 Sale
$12.99
1
1
2
3
4
5
6
7
8
9
10
11
12
13
14
15
16
17
18
19
20
21
22
23
24
25
26
27
28
29
30
31
32
33
34
35
36
37
38
39
40
41
42
43
44
45
46
47
48
49
50
51
52
53
54
55
56
57
58
59
60
61
62
63
64
65
66
67
68
69
70
71
72
73
74
75
76
77
78
79
80
81
82
83
84
85
86
87
88
89
90
91
92
93
94
95
96
97
98
99
100
| Store | Stock Level |
| --- | --- |
| Lunn Ave - Click & Collect | High |
| Constellation Drive Superstore | Medium |
Same day Click & Collect on orders placed before 3pm. Please wait for your email notification that your order is ready before coming into store.


Further Information
| | |
| --- | --- |
| Brand | Wairau River |
| Region | Marlborough |
| Varietal | Sauvignon Blanc |
| Size | 750ml |
| Alcohol % | 13.0% |
| Vintage | 2021 |
| Country | New Zealand |
Description
Sunshine Bay Reserve Sauvignon Blanc is a premium "Export" label produced for the Russian Fine Wine market... by pioneering Marlborough winery Wairau River. Its classy bottle and presentation an indicator to the quality in the bottle. This spectacular 2021 vintage was "ready to ship" when the tragic events in Ukraine unfolded. Without hesitation, and before government sanctions were introduced, the Rose family withdrew this 2,000-dozen export order that was ready to ship. They asked Fine Wine Delivery to CLEAR it to NZ Sauvignon Blanc lovers at a cost recovery price of $12.99 bottle. It is concentrated fruit off their older vines... quality that you'd normally expect to pay above $20 for. So far, we have sold 500 dozen... there is a way to go yet. We rated it 95/100... the quality is outstanding. Phenomenal in fact at $12.99 bottle... we were confident the word would spread. And with 45 customer reviews now in averaging an unprecedented 4.8/5... (need mostly 5 Star reviews to average 4.8 across 45 customers) ... momentum will ramp up. This CLEARANCE enables FWD customers to purchase premium mature vine Marlborough Sauvignon Blanc at the giveaway price of $12.99... and support this iconic and ethical NZ winery. The Rose family planted their first vines in the Wairau region of Marlborough in 1978. Talk about growing and knowing your terroir, no one knows more about this Marlborough sub region than them. It's the quintessential family business. When you know your land like the back of your hand... and your first vines were planted 44 years ago, with most of your 100% family-owned estate vineyards north of 20-years old... it leads to the making of excellent wines like this "Export Only" Sunshine Bay Reserve Sauvignon Blanc. It's from the beautifully concentrated and fresh 2021 vintage... and will show off its exuberance through 2025 under screwcap. Fill your cupboards... Sauvignon Blanc of this quality is not normal at $12.99.... and let's get the remaining 1500 cases sold for the Rose family. Enjoy, JEFF

Smells
The amazingly intense aromatics explode from the bottle and fill the room! Passionfruit, pineapple, lemon and lime zest, ripe grapefruit and subtle sweet herbs with refreshing notes of wet stones.
Tastes
The palate backs up the sensational nose! Plentiful tropical fruit, gooseberry, black currant and citrus zest overflow, with a juicy lime juice acidity and gentle mineral thread giving this bright young Sauvignon a crisp, deep finish. Outstanding buying this pure and balanced Sauvignon Blanc is easily the better of many wines up to twice price! Enjoy now through to 2024 with your favourite seafood.
We taste, rate & guarantee every wine we sell.
I've shared this with many. Lot's of great feedback. So we'll deserved for this bargain.

11th May 2022 | Barb Cornor
Fantastic wine, we are loving it. Thanks Jeff for pointing it our way

15th April 2022 | Andrew Dennan
We bought 6 bottles of this lovely wine to see what it was like. I have just ordered a dozen more bottles since it is very good. We usually drink Savs at a much higher price point. This is a bargain

11th April 2022 | Vincent Watts
Loved this wine. Would highly recommend. Would I order more? absolutely!!

8th April 2022 | Marguerite Bovaird
A great example of a Marlborough Sauvignon Blanc, and a fantastic bargain. I've recommended it to heaps of friends including the owners of our favourite local eatery. Get this lovely wine while you can!

8th April 2022 | George Phillips
Excellent wine at a fantastic price. Happy to support this ethical NZ winery and I will be buying more.

7th April 2022 | Dana Thomas
4 out of 5 stars from me for the wine. 5 out of 5 for price. A little flinty, but lots of fruit too

7th April 2022 | Robin
Clean and precise, with all the zesty flavours and aromas you would expect from a quality Marlborough Sauvignon Blanc.

7th April 2022 | Oliver Denize
"Sauv Blanc" that would make a "non-Sauv Blanc" drinker buy a case or more.

7th April 2022 | Rick Harvey
Exceptional quality for the price, don't miss out.

7th April 2022 | Simon pringle
Very nice Sav. Fresh & fruity. Will order some more.

7th April 2022 | Bruce Johnston
Sunshine in a bottle. Lovely crisp tropical and citrusy flavour.

7th April 2022 | Alistair Hookings
Sunshine Bay Sauvignon Blanc is a beautiful full flavoured wine with lovely fruity tastes, suitable to drink at any meal.

7th April 2022 | Ray Donovan
Quality that will blow you away at this price

7th April 2022 | Kevin
A great value wine with a compelling reason to purchase. Chapeau to the Rose family for taking a stand!

7th April 2022 | Roy Campbell
A tasty Sauvignon, easy to drink. Re-ordering more now while still on special.

7th April 2022 | Jeremy Toms
An enjoyable drop, outstanding value, can't really go wrong with it.

6th April 2022 | Jonathan Watt
Fresh and fruity. Great value

6th April 2022 | Dave Lilley
This wine is an excellent example of why NZ Sauvignon Blancs are famous worldwide. Sunshine Bay is a crisp, vibrant wine that lives up to the potential of its nose. All the zest you expect, balanced with underlying fruit tones that make it interesting enough to keep exploring it. Exceptional value for money.

6th April 2022 | Darren Ward
Delish sav and amazing value! I will keep it simple - don't miss out!!!

6th April 2022 | Lisa Folkard
Bought a case, chilled a bottle and tasted, what a surprise, clean and smooth. Bought another case.

6th April 2022 | Eric Goodhew
This is a lovely savvy, with strong passionfruit and lemon flavours leaving a long, lingering taste in the mouth. Its quite delicious!

6th April 2022 | Naomi
This wine is outstanding value for money. Highly recommend.

6th April 2022 | Katie Stubbs
A beautifully balanced sauvignon with a moreish finish. My favourite this year so far.

6th April 2022 | gay sweeney
Sensationally good at this price! So ,so full of all the things I expect in a fresh Sav.B

6th April 2022 | BRIAN SANDELL
Discovered Sunshine Bay before it's promotion but selfishly kept it to myself, it's that good.

6th April 2022 | Mark Bright
This is a prime example of what the world has come to expect from our Sauvignon Blancs. It represents true value for money. So glad Fine Wine Co has released some more! I'm tired of pinot gris and this wine has renewed my interest in this grape.

6th April 2022 | Kirsty Beckett
Love the peach and passionfruit nose with underlay of pear. The taste is crisp and fresh with lingering aftertaste. A wine that reflects the best of its region.

6th April 2022 | Barbara
Lovely wine. Recommended

6th April 2022 | Paul Craddock
Absolutely delicious and incredible value. I appreciate the ethical stance taken by the Rose family which means that we can, in turn, appreciate their wine in NZ instead!

6th April 2022 | Penny
Beautiful fresh wine, perfect with garlic prawns, hits the spot!

6th April 2022 | Mary Ryan
A real glass of sunshine ,fresh,fruity delicious, Slava Ukraini

6th April 2022 | Roy Wedderburn
Unknown winery (for me) but agree with your review-comments, 5 Star, and also appreciate they're unfortunate reasons for having to sell in NZ.

6th April 2022 | Peter Moule
Although I am no wine connoisseur, I enjoyed this wine immensely. (I didn't realize at the time of ordering that this had been ethically withdrawn - I would've purchased more.) I would definitely buy this wine again.

6th April 2022 | Jackie Rose
absolute bargain..a beautiful zingy grassy savvy. I will be buying at least another case.

6th April 2022 | Graham Guy
FWD have nailed their description. Lovely balance of fruit and minerality. We want more!

6th April 2022 | Chris Mcmaster
Crisp, and refreshing, outstanding value at a fraction of the price of comparable wines.

6th April 2022 | Mohan Parbhu
I HAVE HAD THROAT CANCER, AND HAVE BEEN UNABLE TO DRINK MANY SAUVIGNON BLANCS DUE TO DAMAGE BY RADIATION TREATMENT, HOWEVER, THIS ONE IS VERY ACCEPTABLE AND ENJOYABLE.

6th April 2022 | Peter Aitken
A fine example of an excellent vintage. Medium dry, not smelling of sulfites. Recommended.

6th April 2022 | Richard Bloxham
Fantastic wine with great flavour

6th April 2022 | Phil McKubre
Beautiful wine - so full of the best Marlborough aromas and alluringly flavour-some. Thank you to the vineyard for not dispatching this wine to Russia.

6th April 2022 | Maryanne Dransfield
Exceptional flavors for its price. Easy drinking and great value. Just ordered my 2nd box it is so good.

6th April 2022 | Shona Fitzpatrick
Delicious Marlborough Sav - we are drinking it far too quickly!

6th April 2022 | Lauren
Lovely fresh Sauvignon Blanc - perfect for the never ending Summer! Fantastic value for money.

6th April 2022 | Frances McLean
Exceptional quality for the price. You would normally expect to pay $25-30 for a Sav this good. Will definitely be stocking up before it sells out.

6th April 2022 | Mark Meharry
An outstanding Sauvignon Blanc, and even more so at this price. Excellent in every way.

6th April 2022 | Murray Page
Really excellent and will probably age well for the next few years. Very strong passionfuit notes which has made it a go to in our household.

6th April 2022 | Gaven Martin