2020 The Half Monty by Trinity Hill
Trinity Hill are renowned for their Gimblett Gravels Montepulciano & Bordeaux Reds – Covid has decimated hospitality markets forcing this spectacular $14.99 CLEARANCE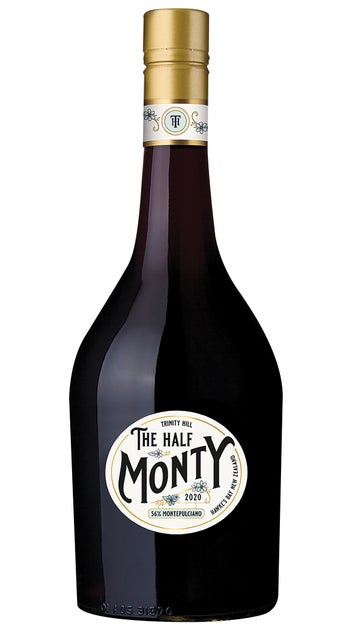 $29.99
$28.99 on Case buys (12 bottles)
Out of Stock
| Store | Stock Level* |
| --- | --- |
| Lunn Ave Superstore | Not In Stock |
| Constellation Drive Superstore | Not In Stock |
* Under Level 3 we are not able to offer our normal 2 hour Click & Collect service. You will receive an email confirming when your order is ready and waiting to be collected. Please wait for this email, do not try and collect your order before this and follow the instructions given.

Further Information
| | |
| --- | --- |
| Brand | Trinity Hill |
| Region | Gimblett Gravels, Hawkes Bay |
| Varietal | Montepulciano |
| Size | 750ml |
| Alcohol % | 13.0% |
| Vintage | 2020 |
| Country | New Zealand |
Description
Montepulciano is an indigenous Italian red wine grape, famed for producing flavourful, medium-bodied wines that pair excellently with food. The Bordeaux varietal components from the fabulous 2020 vintage in this Half Monty by Trinity Hill, add a Kiwi energy to this traditional Italian varietal. 56% Montepulciano, the balance made up of 22% Merlot and 22% Petit Verdot usually allocated to The Gimblett. Purposefully crafted in a fruit led style (loads of fruit complexity) to express the wonder of the striking fruit of the 2020 Hawkes Bay and Gimblett Gravels vintage.


Smells
Vibrant and intense blackberry, plum, boysenberry with a hint of liquorice and spice.
Tastes
Deliciously moreish, loaded with blackberry, blackcurrant, boysenberry and plums morphing into liquorice and allspice. Fine chalky tannins combine with succulent acidity giving an old world feel to this plump and juicy new world red. Enjoy now and through 2025 with your favourite pizza.
We taste, rate & guarantee every wine we sell.
Beautiful. Smooth. Full Body.

4th February 2021 | Noel Furnell
Love this wine.Very goodflavour.

29th January 2021 | Lorraine Guiney
Excellent value for money

24th November 2020 | Frank Rientjes
Full bodies, smooth tasting and absolutely delicious!

18th November 2020 | Kate Potter
Wonderful vinosity with richness and length transports you to Italy and demands slow roasted Porchetta

17th November 2020 | Alastair Leggat
Smooth & Punchy, Will Age Well if u can keep it that long.I could drink this wine everyday.

17th November 2020 | Sandra
Perfectly presented in the cheeky see-through bottle. Full Monty experience right from the first sip.

16th November 2020 | Chantal
Review from the Full Monty: My friend bought me a bottle for my birthday... and the half Monty did not disappoint... Coming from a Monty perspective, this was everything I wanted... Montypulciano has always been a favourite drop... This was much more alive than the parrot in the Monty Python sketch. In fact I was the one to let out a long squawk of satisfaction....enjoyed with some premium cuts of red meat. Being as I am the Full Monty, both in name and current attire (sorry I'm just out of the shower), I feel I am in a premium position to welcome 12 more Montys into the family, if you decide this review worthy.

16th November 2020 | James Monty (Montgomery)
Thoroughly enjoyed by a non red wine drinker. Smooth and fruity.

16th November 2020 | Win Stringer
Well presented with a full fruit flavour and a remarkable price.

16th November 2020 | Russell
Nice

16th November 2020 | Dave
A full-bodied smooth drinking wine with a hint of cassis and berries. Love the name!

16th November 2020 | J Watt
The perfect red for summer with it's bright fruity flavours. Great value, don't miss out.

16th November 2020 | Richard Tunnicliffe
Value for money up the wazoo My friend's were so impressed l had to buy more

16th November 2020 | Kevin Glover
Delicious fruit forward style, packed with berry flavours. Enjoyed my first case so much that I immediately ordered a second!

16th November 2020 | Stephen Skipworth
Exceeds its description. I loved the word play on the label. Most enjoyable will order more

15th November 2020 | Charles
Great drinking wine, great fruity flavours and a stylish bottle for a talking point with friends. Well worth a bottle or 3 for the summer.

15th November 2020 | John Scott
Smooth, very drinkable. Fruity with good tannins, great buy at this price.

15th November 2020 | Paul
Onemana, looking over the Pacific at sunset, a glass of Half Monty, Utopia

15th November 2020 | Mike Sheehan
rich fruity taste, berries and a hint of spice as it sits mellows out nicely

14th November 2020 | Murray Otter
great price. love the bottle. easy drinking wine

14th November 2020 | Graeme Bell
This is an excellent wine for an unbelievable price. Drinking perfectly now.

14th November 2020 | Tony
As a normal white drinker once tasted I found this wine exceptional, perfect for me.

14th November 2020 | Willem
No half measures here...this is the full Monty! Loved it and will be reordering!

14th November 2020 | Tom
Smooth and easy to drink

14th November 2020 | Hamish
An abundant mouthful, guests love it.

14th November 2020 | Mary Ryan
Vibrant, fruity and fun wine, goes perfectly with honest Italian dishes. A bargain at the price!

14th November 2020 | Wine-O
Blend of grape varieties that produces a refreshingly different wine with purple hue, love it

14th November 2020 | Warren Hendry
Absolutely beautiful...smooth ....rich and luxurious

13th November 2020 | Wendy
V.good, purchasing more as we speak!

13th November 2020 | Scott
Took us back to Castlemuzzio. Amazing taste, enjoyable drinking.

13th November 2020 | Stephen Patterson
Lovely, smooth wine, great value for the money, great Kiwi winemaking, and a good cause to support

13th November 2020 | Jeff S.
Could be worth cellaring for a few years to get the best from this wine

13th November 2020 | Roger
What an amazing wine for an amazing price! Highly recommended

13th November 2020 | Martin Brannigan
Not for the faint at heart this is a seriously fruit driven red. Great for lamb off the BBQ or with a slow cooked rich tomato pasta disk.

13th November 2020 | Steven Ellis
Love the wine, love the bottle. Delicious notes of dark berries with a bit of spice.

13th November 2020 | Vanessa
Tastes like Italy. A bit more tannin than your average NZ wine

13th November 2020 | Matthew McIntyre
I love everything about this wine, uncomplicated, beautiful fragrance, soft on the palate, with food or without and the price WOW who cares ............I do. About to open one now.

13th November 2020 | Mark Lennon
Love the blend and "Trinity Hill" and "Gimblet Gravels" is a no brainer. Great wine at this price.

13th November 2020 | Katherine & Trevor Palin
Great value for money in this glass. Enjoy beauty with your favourite wood fired pizza, the perfect combo!

13th November 2020 | Araminta Morison
Great packaging. Very deep bright colour and a little tannic. Good value.

13th November 2020 | Stephen Wardn
Great value

13th November 2020 | Cam McNaught
A nice surprise how much character and taste this wine had for a very reasonable price. I must admit that I purchased it because I have a grandson named Monty but would happily order it again because it was very enjoyable to drink.

13th November 2020 | Sarah Hepper
I really enjoyed this blended red. It has a gorgeous colour and the smells were simply mouth watering. It is a great choice for social occasions.

13th November 2020 | Karen McDougall
Great wine , great colour. Opened to try a glass with friends and drank 3 bottles. Syrah and Montepuciano lovers will enjoy.

13th November 2020 | Brent Griffiths
I'm back in the husband's good book, ordered this one for him.

13th November 2020 | Kay
Great value wine, lovely mix of some of the best of Italy and NZ, better open another!

13th November 2020 | James Loynes
Don't be fooled by the name, this wine isn't hiding anything! An up front, fruity number with a bit going on in the back. Youthful and exuberant, great value for money, you can't really ask for much more in a stri.... er, wine.

13th November 2020 | Mark Fidler
Full flavour, rich but soft red. Great with meat and pasta.

13th November 2020 | Roy Carroll
Fresh and clean, summary red wine without the slightest hint of oak or developed characters. Fresh but full wine with deep purple colour and some fresh tannins. Imagine it will go well during summer after a slight chill in the fridge (must try that).

13th November 2020 | Josh
Very enjoyable well priced wine. Have ordered more as my go-to wine.

13th November 2020 | Janine Williamson
Enticing berry flavours, thoroughly enjoyable drinking now.

13th November 2020 | Gavin M
Wonderful wine. Great when you first pour it and realise the bottle is clear as the beautiful purple hued wine hits your glass!!

13th November 2020 | Paul
I bought this to take to dinner with husband & wife friends who went above and beyond to help my son & I during challenging circumstances in to lockdown this year. Their son is called Monty. Unopened, it was already a hit. The blackberry bomb that ensued rendered us unusually speechless - for about three seconds, at least. It was the couple's first experience of Montepulciano and, Lord knows, it won't be their last! Especially given this Italian-Kiwi lovechild wine is named after their own boy; well, 'half' of their Monty, at least. With a barbecued steak - the first of the summer season - The Half Monty gave us The Full Monty of flavour, colour and finish. We decided this wine offered the sultry, amorous fruit of an Italian adonis, who had crossed paths with a hearty, earthy, solid Kiwi bloke. Cheers, Monty! To the glass always being half full.

13th November 2020 | Heather Vermeer
Fabulous value for money. Very easy smooth drinking for all occasions. Too easy :)

13th November 2020 | ANGELA SALE
The first thing to note is the bottle itself. I don't find its dumpy shape at all charming but what is surprisingly disconcerting, shocking even, is the colourless glass from which it is made, as if the winery had originally intended it to contain a rosé wine—and indeed their Lost Garden rosé does use the exact same bottle. A dark but surprisingly limpid purplish colour; quite fragrant with sage, bay, and raspberry leaves. A juicy-fruit palate; easy, open, more black than red fruits and just a faint tar savouriness and hint of farmyard. A clean, medium-long finish again savoury rather than sweet-fruited although gaining boysenberry mouth-aromas. Not simple or lacking concentration but feeling thin, lacking body and depth. On the second day it had developed a rosy mouth fragrance quite reminiscent of a Lacrima di Morro d'Alba from La Marche in Italy, while the finish showed mineral salts. A wine of curiosity and character rather than direct charm.

13th November 2020 | Joe
From the bottle to the drop a clear winner

13th November 2020 | Peter Christensen
A delightful surprise, seduced by the bottle but loved the wine! To me it's like a Pinot twice the price.

13th November 2020 | Phil Stoddart
What a surprise. Expected little; received a beautiful classy wine. My thanks.

13th November 2020 | Ian Masefield
So fruity it could 1 of your 5 a day. Outstanding value at this price. Yum.

13th November 2020 | Richard Elliott
Moderate in weight this is a flavorsome wine, best lightly chilled. I enjoyed it more as an aperitif, but it is fine with pizza as well. A red wine for white wine drinkers! Good value at the price.

13th November 2020 | John Wright
We love this wine so much, we have already bought our second half dozen bottles. Lots of fruit and great nose, smooth and balanced. At this price a must for barbecues and outdoor dining.

13th November 2020 | Jo
Full bodied and very easy drinking. Liked it so much I re-ordered more.

13th November 2020 | Selena Pitman
This wine was such a surprise for the price. Truly delicious, smooth and remarkably grown-up.

13th November 2020 | Robyn