2018 Seresin Estate Momo Chardonnay
Delicious Organic Chardonnay, Barrel Fermented & Aged crafted by the Seresin winemaking team. The brand is being retired, make the most of this magnificent offer while you can for $12.99 bottle.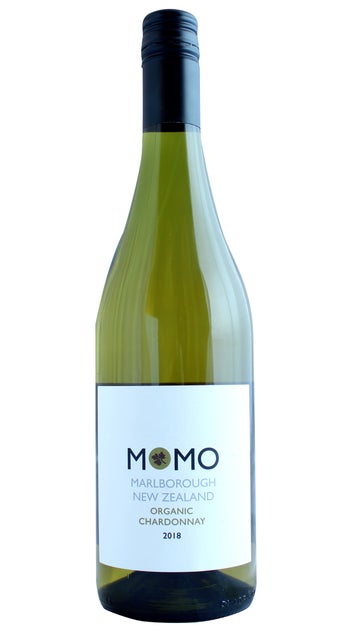 $19.99
$18.99 on Case buys (12 bottles)
Out of Stock
| Store | Stock Level* |
| --- | --- |
| Lunn Ave Superstore | Not In Stock |
| Constellation Drive Superstore | Low |
* Under the current restrictions we are not able to offer our normal 2 hour Click & Collect service. You will receive an email confirming when your order is ready and waiting to be collected. Please wait for this email, do not try and collect your order before this and follow the instructions given.


Further Information
| | |
| --- | --- |
| Brand | Seresin Estate |
| Region | Marlborough |
| Varietal | Chardonnay |
| Size | 750ml |
| Alcohol % | 14.0% |
| Vintage | 2018 |
| Country | New Zealand |
Description
Crafted by Seresin Wines from fruit off their organically managed estates... Momo Wines have been very popular on restaurant lists domestically and globally. Three years ago, while in Paris on our FWD Wine Tour, I dropped into my favourite Wine Store in the World... Lavinia. Among their three floors of amazing wines, they have aged Romanée-Conti Romanée-Conti 3-litre bottles on offer at 65,000 Euro's... I love to look and dream about one day being able to buy, open and share one with special people. What else did I find on Lavinia's shelves amongst a tiny offering of Kiwi wines? Seresin "Momo". The fruit and oak marriage are seamless as is the competing mix of stone and tangy citrus fruits. A delicious Chardonnay experience that will be unlike anything you've ever experienced at $12.99 bottle. That's because it was made to mid $20's specifications and always presented as exceptional drinking when on a hot $19.99 special. Now the Momo brand is undergoing a quantum change and we have been asked by Seresin to quickly CLEAR current stocks of the delicious 2018 vintage that are higher than normal... due to the impact of the Pandemic on the restaurant sector globally.

Smells... Engaging aromas of stone and citrus fruits with vanilla spice and nutty lees influence.

Tastes... Instantly appealing in the mouth as the richness of stonefruit, spicey oak, nutty and buttery lees characters are deliciously freshened by a finishing wave of tangy citrus. Entering its 4th year its drinking beautifully but has excellent structure and balance that would make it sing with fattier seafood, pork, and poultry dishes... enjoy now through 2023.
We taste, rate & guarantee every wine we sell.
Very pleasant to drink now, but I think it will age to a 5 by next year! and such a great price.. love Seresin wines!

12th July 2021 | KAREN GREGORY
Great taste and very good value chardonnay at $12.99. Nothing quite like it in the market. I'm on my 3rd or 4th purchase.

12th July 2021 | Kevin Barnard
A fresh multi layered style that is great value.

12th July 2021 | Bruce Fisher
Unbelievable value - everyone who's tried agrees. I'm buying more.

12th July 2021 | John Coltman
A great everyday Chardonnay at a great price.

12th July 2021 | Des
Really enjoyed this wine, very smooth and full of flavour

12th July 2021 | Diane Ashby
A wine with subtle but good oak use and nice fruit on the nose. However a touch of aldehyde but this will integrate well with a bit of aging. Palate shows good acidity ph and balance between oak and expected Chardonnay characteristics which are evident. In all a good wine with the style expected from Marlborough fruit and with great aging potential on stelvin closure.

12th July 2021 | Dennis Robinson
Very pleasant to drink - and love its ORGANIC!

12th July 2021 | Tracey Parsons
Excellent delicious Chardonnay- have really enjoyed this wine, outstanding value!!

12th July 2021 | Louise Garner
When I purchased this wine, I was advised it was not 'buttery' - this was my usual choice of Chardonnay... but thought I would try it anyway. I returned the following week and bought a half dozen, I was so impressed! The fact it is organic is another added bonus... will be back for more shortly, thank you, Fine Wine

12th July 2021 | Maureen Gingles
Unbelievable quality at the price, lovely drinking now and can also be cellared.

11th July 2021 | Diane Duncalf
What a steal! Bought this wine full price at a store, couldn't believe it when I saw this price here. A superp drop for chardonnay lovers

11th July 2021 | Alison
Excellent fruit flavours - tropical, and white peach. Nicely balanced with a touch of nuttiness from the oak. Well structured wine, with long palate. Worthy of 4.5 stars

11th July 2021 | Penny Prestidge
I would happily pay much more for this wine, which is stunning value at $12.99. I get stone fruit and light buttery nutty flavours along with subtle acidic freshness. It's fresh and appealing enough to drink on its own, but has a lovely subtle complexity that makes it great with fish, chicken, fruit and cheese.

11th July 2021 | Dene Peters
Wow, give me Momo... more. 5 star Marlborough chardy at 3 star prices. The whole enchilada - stonefruit & citrus matched by integrated oak, full mouthfeel and finish - helped by three years in the dark. Always intend to have it with food but sometimes it never doesn't quite last... A Fine Wine indeed.

11th July 2021 | Brendon Burns
Ordered one bottle initially, (price point induced a little nervousness) but after tasting placed an immediate follow up multi-bottle order. Chardonnay tends to come in all shapes and sizes but at the end of the day quality prevails. Constitutes the best value in recent memory.

11th July 2021 | Paul Clarken
This delicious Chardonnay is great value for money. With hints of oak and vanilla to compliment the stone fruit, it pairs well with chicken and pasta. Great winter drinking!

11th July 2021 | Irene Woodhouse
Great at an exceptionally good price

11th July 2021 | Tim Felton
Absolutely gorgeous chardonnay, buttery with notes of stone fruit. Highly recommend to true chardonnay fans.

11th July 2021 | Tara Wilding
A very quaffable chardonnay at an excellent price. I will buy more

11th July 2021 | Brian Hopkins
A new favourite, just bought our second case.

11th July 2021 | Christine brotherton
Just loved this wine from first taste. Lovely buttery flavours, perfect depth for cold weather drinking and I doubt there'll be any left by the time summer comes!

11th July 2021 | Kaye
A well balanced wine with a pleasant after taste

11th July 2021 | Alan Sadler
Not recognizable as a typical N Z Chardonnay. Not balanced to the palate. Quite disappointing really

11th July 2021 | Glenn Halford
Amazing value Chardonnay fantastic easy drinking ! My non Chardonnay drinking friends are now converted at so easy to drink even without food . Fresh clean crisp lovely hue. Looking forward to my next order

10th July 2021 | Brenn
Lovely clean chardonnay

10th July 2021 | Erika Commers
Very nice drinking wine

10th July 2021 | Chris Liggins
10th July 2021 | James Shorten
This is such a full rounded chardonnay at such a ridiculously low price that I am ordering a second case!

10th July 2021 | Jenny Gibbs
We bought a Case of this Beautiful Chardonnay and LOVED it SO MUCH we straight away ordered a second case. I really like an Oakey Chardonnay and this Momo 2018 didn't fail to PLEASE. 10/10 from us Ray & Vicki Bruce

10th July 2021 | Vicki Bruce
Very pleasant organic chardonnay ( and able to be drunk with a clear conscience!) So it's a Yesyes to the Momo!

10th July 2021 | Mark Saikkonen
Very pleasant drinking and very good value.

10th July 2021 | Bill Barry
A friend recommended this wine to us. We have found it to be an excellent value chardonnay with just the right amount of butter and oak. It has a lightly fruity flavour balanced with body and a light acidity.

10th July 2021 | Cate
This delicious wine is great value for money. Distinctive varietal character, but with some finesse. In fact, I have just ordered another case :)

10th July 2021 | Roger Fraser
Momo chardonnay is absolutely delicious. I was doubtful as the price was so cheap, so ordered a dozen thinking try one and send them back. We were pleasantly surprised and I thoroughly recommend Momo, as good as any $25-$30 chardy.

10th July 2021 | Nick Gordon
I really enjoy a glass (or two) of this wine. It is a well bodied with excellent flavours. I look forward to tasting more Seresin MOMO.

10th July 2021 | Daniel Payne
clean & vibrant taste, ,best Chardonnay I had for this money.

10th July 2021 | Mansoore
Beautiful wine. Some fruit then dry after taste. Sadly my wife also likes it.

10th July 2021 | Roy Carroll
Really love this wine. Had visitors staying for a few days and it was demolished very quickly.

10th July 2021 | Terri Bentley
A very drinkable chardonnay at a good price

10th July 2021 | David & Thea French
I absolutely loved it. I reluctantly shared a bottle with my husband and he didn't rave about it like I did

10th July 2021 | Terena Ball
Lovely flavours and depth of fruit with undertones of oak at a great price point. Will definitely be buying more.

10th July 2021 | Gavin McNaught
Great Chardonnay - tasting notes very accurate and a great drinking wine

10th July 2021 | Alister Still
Organic chardy with good concentration and fair amount of funk to it. Went surprisingly well with a spicy meal. Some metallic notes became a bit too noticeable without food for me, but very decent value at under $13.

10th July 2021 | Nick
Stunning wine from a Sensational winery. This drop sings loudly of quality & the backing band price of $12.99 ensures a definite Number 1. If you love stonefruit, spice, nutty, buttery vanilla & citrus tang then hurry to secure yourself a box of heavenly harmonies.

10th July 2021 | Kerry Copas
Nice smooth unoaked taste and nose. Slips down easily...

10th July 2021 | David
Such a steal for the price! Seresin's Momo chardy is full-flavoured, creamy, and mouth-filling, with none of the rough edges you'd expect from a wine at this price point. We enjoyed it with dinner and also by itself, and in this season room temperature was the go to maximise flavour. Would def buy again, and even gave one as a present to a chardy drinking friend

10th July 2021 | Jacob Powell
A great value wine, smooth and velvety, one of the best.

10th July 2021 | Brian Frost
Five glasses in that sense that it is obviously not top of the line, but certainly well up there for even the original cellardoor price. It has the lovely unctiousness of a good chardonnay with a lightness of touch that makes it perfect for lunch-time enjoyment.

10th July 2021 | Patricia Thomas
Amazing easy drinking Chardonnay for a bargain price . Fresh clean on palette. I usually drink Chardonnay with food, this little beauty I can enjoy without food also . I can't wait to buy some more. Non Chardonnay visitors have tried it and now enjoy Chardonnay . The quality and price is so good . Enjoy !

10th July 2021 | Brenn
Lovely little complex charddy & the price …exceptional exceptional value for money !

10th July 2021 | Lisa Trant
Great to find a lovely crafted chardonnay with all the balance and fruit you would expect, and the lovely finish. a complete wine

10th July 2021 | Alison Rowe
Very smooth drinking chard! Fruity but not overpowering. This wine is enjoyable with or without food. Great value.

10th July 2021 | Philip Hornblow
Such a great wine at an even better price. Really enjoying this.

10th July 2021 | Susan
Delicious chardonnay for the price. Soft and comforting on a cold winters night. On our second case - naughty but nice

10th July 2021 | Rowan Elliment